The purpose of a microgrid RFP is to solicit proposals from qualified firms to design, develop, install, and operate a microgrid. Microgrids are localized power grids that can operate independently of the main grid, providing a variety of benefits, including:
Increased resilience: Microgrids can help to improve the resilience of critical infrastructure, such as hospitals and data centers, by providing backup power during grid outages.
Reduced energy costs: Microgrids can help to reduce energy costs by integrating renewable energy sources and using energy storage systems to optimize energy usage.
Reduced greenhouse gas emissions: Microgrids can help to reduce greenhouse gas emissions by using cleaner energy sources and by reducing the need for power from the main grid.
How Microgrid RFP Works
Organizations interested in deploying microgrids typically release Microgrid RFPs to attain various benefits. In this process, the RFP elucidates specific requirements for the microgrid project, encompassing the desired scope of work, performance characteristics, budget, and timeline. Moreover, it establishes the selection criteria to evaluate proposals.
By initiating an RFP, the organization ensures a diverse range of proposals from qualified firms, enabling the selection of the best fit for its needs. Additionally, the RFP process contributes to a well-defined microgrid project, fostering clear understanding of expectations among all involved parties.
Here are some specific examples of how microgrid RFPs are being used:
A hospital may issue a microgrid RFP to improve the resilience of its critical power systems.
A university may issue a microgrid RFP to reduce its energy costs and greenhouse gas emissions.
A municipality may issue a microgrid RFP to improve the reliability of its power grid and reduce its reliance on the main grid.
Microgrid RFPs typically include information about the following:
The scope of work, including the design, installation, and operation of the microgrid
The desired performance characteristics of the microgrid, such as its capacity, reliability, and resilience
The budget and timeline for the project
The selection criteria for the project developer and operator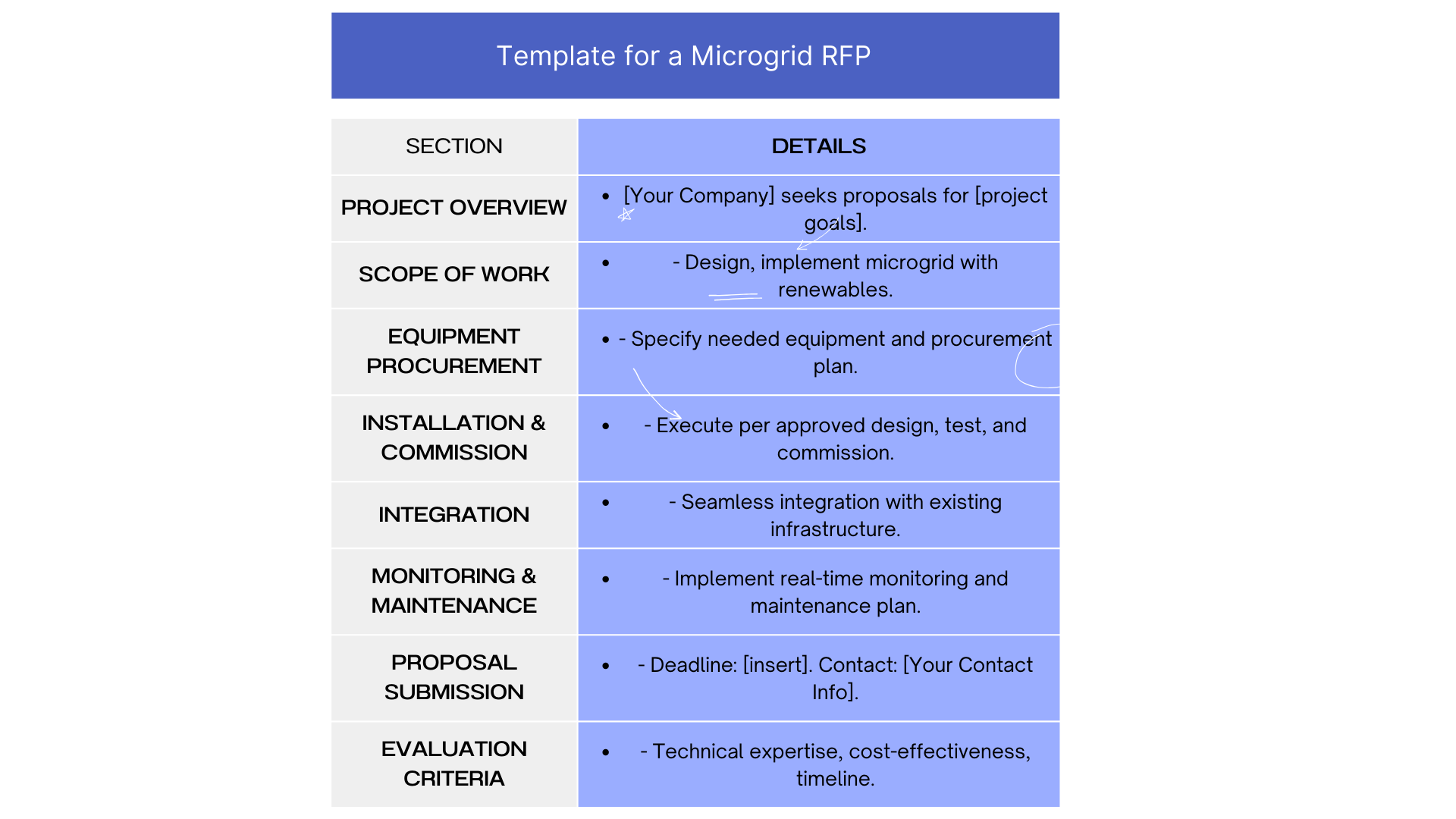 Request for Proposal – Template
Certainly! If you're looking for assistance with a Request for Proposal (RFP) for a microgrid project, here's a template that you can use as a starting point. Please note that you may need to customize it based on your specific requirements and project details:
Microgrid RFPs are an important tool for organizations that are interested in deploying microgrids to achieve their energy, resilience, and sustainability goals. By carefully considering the requirements of the RFP and submitting a well-crafted proposal, firms can increase their chances of winning these projects and helping to advance the adoption of microgrids.